Ad blocker interference detected!
Wikia is a free-to-use site that makes money from advertising. We have a modified experience for viewers using ad blockers

Wikia is not accessible if you've made further modifications. Remove the custom ad blocker rule(s) and the page will load as expected.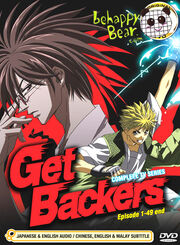 This is a complete list of episodes for the anime series GetBackers, produced by Studio Deen and based on the manga series of the same name written by Yuya Aoki and illustrated by Rando Ayamine. The series premiered on TBS in Japan on October 5, 2002 and ran for forty-nine episodes until September 20, 2003. It was also broadcast by the anime television network Animax across its respective networks worldwide, including East Asia, Southeast Asia, South Asia, and South America. The series was released to Region 2 DVD in Japan by TBS in seventeen individual volumes with three episodes per disc.
Six pieces of theme music are used for the episodes; two opening themes and four ending themes, while one opening theme was also used as an ending theme. The opening themes are "Yuragu Koto Nai Ai" by Naomi Tamura, used for the twenty-five episodes and "Barairo no Sekai" by Pierrot, used until the last episodes. The five ending themes are Ichibyo No Refrain by Otoha for the first thirteen episodes, Bon Bon Blanco's Namida no Hurricane, used for the next twelve episodes, "Mr. Déjà vu" by Naja, which is for episodes 26 to 37 and "Changin" by Nona Reeves, which is used from Episodes 38 until 48. "Yuragu Koto Nai Ai" by Naomi Tamura, which is the first opening of the anime, is also used as the ending of episode 49.
Episode Number

Title

Original Air Date

01
"The Initials are G & B""Initial wa G to B"
October 5, 2002

This episode introduces Ban Midou and Ginji Amano, aka the GetBackers. Their recovery service is "a near 100% rate", meaning they can't fail at recovering things. Things get wild when a schoolgirl named Mizuki Natsumi Mizuki loses her toy kitty when a cop sees her in the alleyway. The cop was giving "information" to some gangsters and he thought she took a picture of him (she was really taking a picture of an alley cat). Ban and Ginji accept the case. After failed plans, car tows, and parking tickets, the Getbackers finally retrieve the stolen object, but Natsumi has been captured by the cop and gangsters. The Getbackers rush to the scene. Now the Getbackers aren't just a pretty face, they obtain incredible powers. Ginji was once known as the "Lightning Emperor" at the Limitless Fortress (more on that on later episodes). He is able to summon lightning from his body, like an electric eel. Ban Midou has a few tricks: First he has a 200 kilogram force grip and second contains the jagan(邪眼), which gives the receipiant a horrible dream for one minute. Anyway, Ban uses the jagon on the crooked cop. The dream contains the cop killing both Ban and Ginji, Natsumi faints, and the SWAT team arrives. The cop tries to tell them that he's a cop, but gets shot to death. Once he wakes up, Natsumi is with the Getbackers and the cop is arrested (supposedly). Later, Natsumi obtains a part time job at the Honky Tonk, a place where the Getbackers hang out, but can't eat because of their tab is too high ( maybe over 1000 yen($100)).

02
"Get Back the Rusted Bonds!""Sabi ta kizuna wo tori kaese!"
October 12, 2002

Ginji and Ban are out of jobs and are starving to death but are rescued by a hobo who feeds and shelters them, later revealing he use to be a factory owner but due to continuous reccesions and pressure from the yakuza his daughter is kidnapped. He then asks Ginji and Ban to get back his daughter from the yakuza. After breaking into the mansions to save her, the daughter betrays Ginji and Ban admitting that she has every thing she needs from the yakuza. However, the yakuza admit that they planned on taking her and that they forced her father to sell her. after a short battle with help from the Evil Eye, she runs to her father who suffers a fatal heart attack.

03
"Operation: Recover the Platinum!""Purachina dakkan sakusen!"
October 19, 2002
The Getbackers received a job from a high ranking government official (introduced by mediator Hevn), ordered to get back a box that's being guarded by a mysterious group of professional transporters. Ban suggested they should get 1/10 of the contents inside the box as reward.
04
"Recovery Service vs. Transport Service""Dakkanya VS hakobiya"
October 26, 2002
The Three Transporters are introduced: Kuroudou Akabane (Dr. Jackal), Himiko Kudo (Lady Poison), and Maguruma Gouza (Mr. No Brakes).The GetBackers fight it out with Doctor Jackal, Mr. No Brakes and the mysterious girl from Ban's past Himiko. In a fashback we find that Ban, Himiko and her brother were a former recovery service.,and that Ban killed her older brother,Yamato Kudo .In the turn of events, Ginji was captured and the professional transporters escape in their truck.
05
"Death Match at Sunrise: The Lightning Emperor vs. Doctor Jackal""Akatsuki no shitou Raitei VS Dr. J"
November 2, 2002
Ginji, together with the box, was retrieved by Ban.However,they were stopped by the transporters on their way back.Now, Ginji must battle with the mysterious Dr Jackal, while Ban, unable to use his Evil eye on the same person on the same day, fight it out with Himiko.In the end, Akabane left ,after the battle, stating that he enjoyed the job, leaving Himiko in the care of the Get Backers.
06
"Get Back God's Melody!""Kami no Shirabe o Torikaese!"
November 9, 2002
At the start of the episode, Ginji saves a blind girl Madoka Otawa from being bullied.Ginji met his old friend, Fuuchoin Kazuki, who finishes the street thugs off.The Get backers were then asked by the genius voilinist Madoka, to retrieve her stolen violin,the Stradivarius.The Getbackers infiltrated Akutsu's mansion to retrieve the violin,when Ginji meet his friend from Infinite Fortress, Fuyuki Shido,being a protector hired by Akutsu.
07
"Beast Master's Transformation""Jyuuhenge BIISUTO MASUTAA"
November 16, 2002
Ban fights the Beast Master Shido while others search for the violin .Ginji faces the unbeatable protector Ryuudou Hishiki .Ban easily defeats Shido, while Ginji cuts the power supply off to escape from Hishiki with Madoka as the guide Akutsu agreed to give up the violin at the end, but the recovery service, in the mist of escaping, unknowingly falls into a trap set up by him.It turns out that Madoka's servant Sugawara real identity is Kuroube Tsugama , a servant of Akutsu, who 'killed' Madoka after the Getbackes duo leaves his car.However, the whole thing was only a dream set up by Ban's Evil Eye, when Ban eyes met with him when he entered the car.Ban quikly finishes Tsugama with his Snake Bite, when Ginji falls down a cliff with Hishiki.
08
"Resound, Sound Life""Hibike, Inochi no Oto"
November 23, 2002
As Ginji fights with Hishiki, his lightning attacks proved to be useless against him.As the fight contnues, Ginji accidentally slips and Hishiki takes the opportunity to kill him by choking him. Ban sensed the danger and rushed to rescue Ginji. Before Ban arrives, Ginji summons the lightning from the dark clouds above and takes down Hishiki,but draining all his powers in the process.As the crew and Madoka rushed to the fighting scene aof Shido and Tsugama brother,..., when Shido quickly gains the upper hand by using bats to trick the opponent, while he sneaks benhind his back to attack him using the Wolf Imitation.Madoka pleads Shido not to kill him, and Shido whistles to signal the dog to steal the violin from Paul and Natsuki.The next morning, Shido personally brings the vioin to Madoka, and is being invited to a open concert .At the airport,Madoka's teacher commented that love had added an extra flavour to her music At the end, Shido is seen staying at Madoka's residence.
09
"Get Back the Illusive Sunflower! (Part 1)""Maboroshi no himawari wo tori kaese! (zenpen)"
November 30, 2002
Ban and Ginji receives a new job fom Hevn, which requires them to recover a painting '
10
"Get Back the Illusive Sunflower! (Part 2)""Maboroshi no himawari wo tori kaese! (kouhen)"
December 7, 2002
11
"Infiltration, Limitless Fortress • IL Retrieval Mission""Sennyuu, Mugenjyou ・IL dakkan sakusen"
December 14, 2002
Hevn brings a new job to Ginji and Ban, and asks Shido, Kazuki, Himiko, and Dr. Jackal along to work as a team, to retrieve something called IL from inside the Limitless Fortress. .........................
12
"Unknown Boy, Makubex""Michi naru shounen, MAKUBEX"
December 21, 2002
After MakubeX is attacked by the smokescreen, the recovery service is seperated from one another. Ginji ends up with the feared Akabane, while Ban unwillingly pairs up with Shido.While Ginji is sighing away, Ban's pair faces their first opponent.........................
13
"Explosion! Fuuchouin String Style""Sakuretsu! Fuuchouin ryuugen jutsu"
December 28, 2002
Himiko teamed up with Kazuki after the explosion. Himiko is stunned by the number of enemies that comes their way.Kazuki suddenly attacks Himiko, revealing his true identity-another thread user, an ex-VOLTS member..........................
14
"The New Four Kings""Aratanaru Shitenou"
January 11, 2003
When the recovery service had been climbing up the towers of the Infinity Fortress, they realised that the target is actually in the underground. In the meanwihle, they are attacked by Ban' past enemy,Takuma Fudou, when ex VOLTS member, Haruka Emishi, came to their rescue........................
15
"The Rouran Dancing Whip that Dances in the Darkness""Yami ni Mau Rouranbu Toupen"
January 18, 2003
Emishi, the 'Fresh Blood Joker', who was thought to be an ally,is actully one of MakubeX's underlings.from emishi words, Ban inferred that IL is actually Implosion Lens, one of the materials needed to make an atomic bomb. In the meanwhile, Kazuki , who is at the medicine shop, also discovered this fact.......................
16
"Explosion! The Lightning Emperor's Rage""Bakuhatsu! Ikari no Raitei"
January 25, 2003
17
"Gathering, Retrieval Team!""Shuuketsu, dakkan chiimu!"
February 1, 2003
18
"Collision! Shido vs. Emishi""Gekitotsu! Shido VS Emishi"
February 8, 2003
Shido and Emishi face off against each other.
19
"Friend… Kazuki vs. Juubei""Tomoyo... Kazuki VS Juubei"
February 15, 2003
Kazuki must battle against his childhood friend Juubei.
20
"The Man From Babylon City""Babylon City kara Kita Otoko"
February 22, 2003
Himiko's showdown with the Babylonian in a v.r version of a Myain temple
21
"Sword of Revenge • Ban vs. Fudou""Fukushuu no Yaiba・Ban vs Fudou"
March 1, 2003
Ban faces Fudou while Genji turns into the Lightning Emperor once more.
22
"Awakening! Lightning Emperor Descends""Kakusei! Raitei kourin"
March 8, 2003
Genji is still the Lightning Emperor. Can anyone stop before he destroys everything?
23
"Attack! Virtual Army""Shuugeki! Baacharu gundan"
March 15, 2003
MakubeX creates many virtual clones of people and the heroes must fight them in order to get to MakubeX.
24
"Final Battle! Ginji vs. Makubex""Saigo no tatakai! Ginji VS MAKUBEX"
March 22, 2003
Ginji faces off against MakubeX.
25
"Get Back the Limitless Future!""Mugen no mirai wo tori kaese!"
April 5, 2003
Will Ginji and Ban be able to stop MakubeX from detonating the bomb? Ren found out that she cannot leave the Infinity Fortress.
26
"Hot Spring Trip to Retrieve Steam!?""Yukemuri onsen dakkan kikou!?"
April 12, 2003
Ban and Ginji are sent to recover a stolen ring at a hot springs resort. Heaven, Paul, and Natsumi tag along and there they bump into Kazuki and Juubei.
27
"High School Girl vs. Retrievers""Jyoshikousei VS Dakkanya"
April 19, 2003
Ban and Ginji are hired to recover a stolen bag. To find it they must deal with a high school girl who claims to know where it is.
28
"The Man Who Lost His Past""Kako wo nakushita otoko"
April 26, 2003
Ban Ginji are approached by a man who wants them to find his memories.
29
"Get Back the Arms of the Goddess!""Megami no Ude o Torikaese!"
May 3, 2003
Clayman returns to hire Ginji and Ban to recover the arms of the Venus De Milo.
30
"Enigmatic Assassins • Miroku Brothers""Nazo no Shikaku・Miroku Kyoudai"
May 10, 2003
31
"Hera and Kite""Hera to Kite"
May 17, 2003
32
"Mission Start! Ginji vs. Miroku""Sakusen kaishi! Ginji VS Miroku"
May 24, 2003
33
"Get Back the Immortal Goddess!""Towa no Megami o Torikaese!"
May 31, 2003
34
"GetBackers Break Up!? The Enemy is Ban Midou""GB Kaisan?! Teki wa Midou Ban"
June 7, 2003
In order to retrieve a stolen diamond Ban and Ginji pretend to fight.
35
"Get Back the Flame of Life!""Inochi no honoo wo tori kaese!"
June 14, 2003
36
"Children of Fate""Unmei no kodomotachi"
June 21, 2003
The getbackers are hired to retrieve a kidnapped baby and Himiko tags along.
37
"Do Your Best, Natsumi!""Natsumi Ganbaru!"
June 28, 2003
While Ban and Ginji go to the beach Natsumi decides to take on a retrieval job. To do so she enlists the help of Emishi.
38
"Recital Just for You""Anata dake no Recital"
July 5, 2003
Shido decides to dress fancy for one of Madoka's recitals. But can he make it on time when an old enemy of his attacks?
39
"Ginji's Hospitalized? To the Hospital! The Whole Crew Gathers""Ginji Nyuuin? Byouin da yo! Zenin Shuugou"
July 12, 2003
Ginji falls off a building and is hospitalized so everyone decides to visit. Shido and Ban get into an argument and when they are hired to get letters they make it a competition. Meanwhile, Kazuki goes looking for Juubei in the hospital and Himiko is left alone with Ginji.
40
"The Monkey's Counterattack!""Gyakushuu no Saru!"
July 19, 2003
Ban, Ginji, and Natsumi visit Madoka's summerhouse. When the town is being terrorized by apes they enlist the help of Shido to stop them. But can he stop them?
41
"Farewell, My Beloved""Saraba itoshiki hito yo"
July 26, 2003
After seeing a videotape Heaven decides to take on Ban and Ginji's assignment. But for what reason?
42
"Atonement for Betrayal""Uragiri no daishou"
August 2, 2003
Paul has an encounter with an old acquaintance which leads to the past three getbackers to go on a mission.
43
"The Man Returns Home... Infinite Castle, Once Again""Kaettekita Otoko... Mugenjyou, Futatabi"
August 9, 2003
Sakura is found injured and tells everyone that MakubeX has been kidnapped. Ban, Himiko, Shido, Kazuki, and Ginji head into the lower town of the Limitless Fortress.
44
"The Last of the Four Kings""Saigo no Shitenou"
August 16, 2003
The group arrives at the pharmacy and meets Juubei and Emishi there. After leaving the group is split up each with different enemies.
45
"The Demon of Revenge, Fudou, Dies""Fukushuu Ki Fudou Iku"
August 23, 2003
More and more of the past is revealed. Himiko battles Kaoru while Ban battles Fudou. Will Ban and Himiko win? Meanwhile Shido arrives at the pharmacy injured and MakubeX tries to send information from the archive to Sakura at the Honky Tonk. Heaven hires Dr.Jackal to transport something but what?
46
"The Brain Trust""Burein・Torasuto"
August 30, 2003
Dr. Jackal arrives at the pharmacy and Gen reveals the creation of the limitless Fortress. Kazuki, Juubei, Dr. Jackal, Ban, and Ginji enter the beltline. Ginji confronts Masaki.
47
"Bust Into Beltline! Ginji vs. Masaki""Beltline Tounyuu! Ginji vs. Masaki"
September 6, 2003
Everyone finds Ginji and Masaki leaves. A strange man then appears and offers to be their guide. Juubei leaves to confront Toshiki. Kaouro fights Ginji
48
"Fated Confrontation · Ban vs. Akabane""Shukumei no Taiketsu · Ban vs. Akabane"
September 13, 2003
Juubei fights Toshiki but the fight is stopped by Kazuki. Ban fights Akabane(Dr. Jackal) and Gen conducts a plan.
49
"GetBackers""GettoBakkaazu"
September 20, 2003
Masaki finally tells Ginji of what he was ordered to do and his intentions. He says that MakubeX was part of the equation is going to be deleted. Everyone joins together and MakubeX is restored by Ginji. Kaoro takes the seal off of Sakura.
^ a b "Getbackers (TV)". Anime News Network. http://www.animenewsnetwork.com/encyclopedia/anime.php?id=1840. Retrieved on 2008-04-24.a b
^ "DVDリリーススケジュール" (in Japanese). Tokyo Broadcasting System. http://www.tbs.co.jp/getbackers/dvd.html#17. Retrieved on 2008-04-24.^ ^