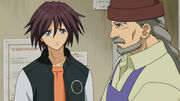 Ren Radou is a minor character in manga and anime. Like MakubeX, she's also adopted by Gen. She doesn't have any special powers but she also knows about computers.
Anime
Ren's first appearance when she saw Kazuki wounded and thought he's a girl. She's giving Kazuki a medicine and tell him to drink it. However, Kazuki lose his consciousness so Ren decided to drink it for him by kissing him.
Later on, Kazuki found himself in a small clinic as Ren found out he's a guy. As she and her grandfather Gen decided to help him to locate MakubeX.
Trivia
She was originally a boy but according to the author it would be better if she's a girl since most female fans hater her.
Ad blocker interference detected!
Wikia is a free-to-use site that makes money from advertising. We have a modified experience for viewers using ad blockers

Wikia is not accessible if you've made further modifications. Remove the custom ad blocker rule(s) and the page will load as expected.